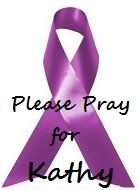 I just wanted to post a Blog today to say please pray for
Kathy at Heart to Heart this week!



I have put together a little Prayer for Kathy awareness button so many of you can put it on your Blogs for this week. She is having her Hysterectomy and exploratory surgery on Thursday at 7:00 am with a check-in time at 5am. Hopefully if all goes well the surgery should only last an hour to an hour and a half, then on to recovery. I have attached a prayer button for everyone who wants to put this on their site to please keep her in your prayers this week.
I am so thankful to have her in my life that I would do anything to keep her from having any pain, much less the pain she has been in.
So grab the button on the right side bar and add her to your prayers if you would be so kind.
Thank you all so much!
Steve